Electric Daisy Carnival Las Vegas 2013 Recap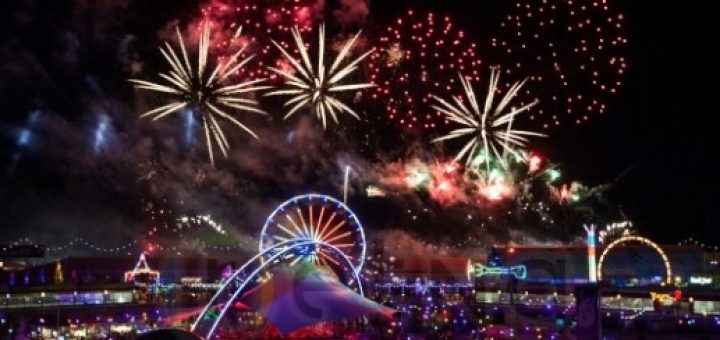 I tried forever to find a catchy lyric to open this post with. We are the lucky ones. Anything can happen. Harder beats, better theatrics, faster production, stronger positive vibes. The problem was that this year, with respect to Insomniac's premise of festival patrons as the "headliners," no few acts were singled out as the main event on each night. And what set this festival's talent roster even further apart from the rest was the very mild hysteria over "Night Owl Experience" Daft Punk rumors, unlike South by Southwest and the Governor's Ball earlier this year.
The amount of musical genius in the same place at the same time was almost surreal as it has been in past years. The biggest names included Hardwell, Porter Robinson, Avicii, Calvin Harris, Steve Angello, Nicky Romero, Krewella, Tiesto, Afrojack, Armin van Buuren and so many more… The first year that Electric Daisy Carnival came to Las Vegas, Tiesto, David Guetta, and Swedish House Mafia were specifically singled out as each night's main act. In 2012, performer equality was a more prevalent theme with the lineup being posted in an alphabetical order rather than listed by levels of importance.
Many elements aside from the musical factor were present in addition to headliner involvement with creating the atmosphere via outlandish costumes and behavior. Art installations were spotted throughout the event, such as a massive electric daisy just outside of the main stage, Kinetic Field, as well as elements also seen at Coachella. There were daisy trees, a bamboo tree house, illuminated ground pieces, pyrotechnic trees and oversized insects. A parade with floats and clown performers was seen journeying the speedway. Mobile decorated bicycles, golf carts and art cars also traveled around the venue.
The 35 million dollar spectacular managed to outdo itself yet again, with grandiose theatrical elements, an exceptionally smooth entrance and exit rate, and even more remarkable features including extravagant VIP packages and a new wedding chapel feature. The main stage, which had formerly resembled a massive grid of LED screens and lasers, consisted of a huge scaffolding decorated not only with LED screens, lasers and lights, but also depicted a whimsical set of oversized glowing mushrooms and flowers with an animated owl as the centerpiece framing the DJ booth. Traffic and parking was much less of an issue than it had been in former years, due to what seemed to be careful logistics that had been formulated with regard to past experiences. The VIP experience was more excessive again this year, not only offering bottle service and raised decks for optimal viewing purposes, but also now including a more private ferris wheel and prix fixe dining options on a corner deck at the main stage as well.
Although the festival draws more visitors to the strip than any other weekend all year and creates more than $200 million in revenue for Clark County, there is question of whether it will return in 2014. Insomniac has postponed planning until a tax law is settled that will determine whether EDC will be held at the Las Vegas Motor Speedway again. Crime and safety rates remained about the same, with slightly more traffic-related incidents and fewer arrests and hospital admissions.
The highlights of the festival would be too much to list in entirety. Recurring elements were heard, like Martin Garrix's "Animals;" produced by a 17-year-old whose single shot to #1 on Beatport over the weekend. Celebrity appearances were rampant with the impressive talent and their high-profile supporters in tow. Insomniac CEO and founder, Pasquale Rotella, proposed to his girlfriend, former showgirl and reality star, Holly Madison on a ferris wheel at sunrise on the last night. The outfits were even wilder than last year, with girls sporting little to no real clothing, to people completely hidden in oversized mushroom costumes. Fireworks and pyrotechnics were even bigger, better, and longer-lasting than previous years. The Night Owl Experience, during the height of the super moon between 3:30 and 4:30 AM on Kinetic Field at the main stage, showcased a detailed theatrical experience; an idea3 conceived by Rotella himself. Ravers filtered out as the sun rose on June 24, at the close of the event that continues to change the face of electronic dance music as well as the lives of the headliners who come from across the nation and sometimes from around the world to experience the Electric Daisy Carnival.