7 Things You Should Understand When Booking A VIP Table At A Nightclub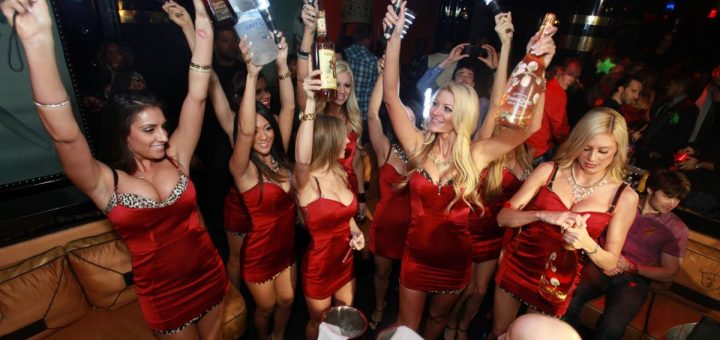 So you made your reservation for your VIP table, showed up at the nightclub and were seated at a table. Below I will explain the some of the important details to keep in mind to ensure you have the best possible time!
1. What does it mean when I'm told I have a minimum spend?
Depending on how many people are in your group, what day of the week it is, who's dj-ing, what venue you're at and where you're looking to sit, your "minimum spend" is placed. For this article, we will go with your group having a $5k minimum spend. As you look at your menu, you have the choice to order whatever it is that you want as long as your bill reaches $5k. I tell my clients "order what you want and as long as your bill comes out to your minimum spend, you're good to go." When people personally ask me how many bottles their minimum spend comes with, I always ask them what it is they plan to buy. 4 bottles of champagne can put you at your minimum spend. If you're drinking vodka, typically you would get 1 bottle per $500 spent unless you choose to go with the magnum bottles that cost more. Imagine going into a restaurant and the waitor tells you that you have a minimum to spend on food. So you order what you want till your bill reaches that amount. Same concept.
2. So what should I order or what can I order?
That's the most common question we are asked when assisting our customers to make sure they have the best possible time. The most common answer we give is "drink what you enjoy and make sure to order champagne for the girls." This isn't Mad Men and you don't need to drink dark liquors like Scotch or Whiskey on the rocks (unless you want). And while a lot of people don't love champagne, we've noticed that women love it! So, if you're looking to enjoy to company of a few women who are looking to have a good time, its not a bad idea to order what they are going to like. As far as clear liquor, we usually suggest sticking to Vodka (common), but again, it's up to you and your preference. Tequila is a great party shot drink. Vodka on the other hand is the most commonly ordered type of alcohol because it mixes well with many juices such as cranberry juice, orange juice, tonic water, pineapple juice and so on.
P.S. Your table security AKA bouncer should become your best friend. Need to go to the bathroom? Let him be your lead blocker! Looking for a group of girls to join the table? He can be your matchmaker! Someone intruding on your space? Let him kindly escort him out! And lets say a member of your group is a little to drunk and causing a scene…It happens, Let him know and he can take care of a potentially awkward situation.
3. How much do I tip my waitress?
Well, this depends on you now. In 2012, the IRS decided that many automatic gratuities in the club are not really gratuities. They placed it as a service fee mainly because the customer doesn't really have a choice whether to leave the gratuity or not. As of January 1, the common automatic tip for bottle service in a nightclub or for large parties at a restaurant will now be considered a service charge. Gotta love taxes. Below is an example of the breakdown of a receipt that was very recent of a client of mine, but was occurred before the new law kicked in on January 1, 2014. You will see an automatic gratuity, a service fee AND a extra over-tip ($30k) because the client thought the service was great. Just remember, it's standard to leave a minimum of 15% tip on your restaurant bill and it's common to leave a 20% gratuity on your table at a nightclub or pool party. The waitress shares her tips with her busser and a lot of the times, the waitresses pool their tips with all the other waitresses in the club.
4. Is there a cover charge still when I purchase a table?
No. When you book a VIP table at a club, you are not charged a cover and all persons in your group are comped in as well.
5. The difference between standard and premium mixers:
While almost every club will provide standard mixers like soda water or the most common juice types complimentary. Premium mixers such as Red Bull and Bottled water are not included. They normally come with a hefty markup like most of the beverages sold at nightclubs. Since you most likely agreed to a table minimum when making your reservation, its important to keep in mind that all of your premium mixers and additional beverages ordered from your cocktail waitress should be included to meet your table minimum requirement. Yes, your cocktail waitress can be called upon to bring that round of patron shots or bottled beers that you want. That is part of the VIP experience.
6. Do we get to keep our table all night?
Yes you do. Once you pay in full at the beginning of the night, that table is now yours for the evening. If you choose to leave the table temporarily to wander the club or hit the dance floor, let your waitress or security guard know. They will make sure no one messes with your bottles or personal belongings. Throw the Security guard a tip for doing so.
7. What time should we get to the club?
The best time to arrive at the club is 10:30pm when they open to get best table placement. At times, 11pm is also a decent time, but going beyond that is pushing it. The podium directors need to seat the room accordingly and as quickly as possible. Unless you have a giant minimum, that special table you want may not be available if you wait long. Stay in communication with your VIP host and let him or her know when you're on your way. If you're only running a couple minutes behind, it's usually not a problem. Communication is key.