Andrea's Restaurant Inside Encore Resort Grand Opening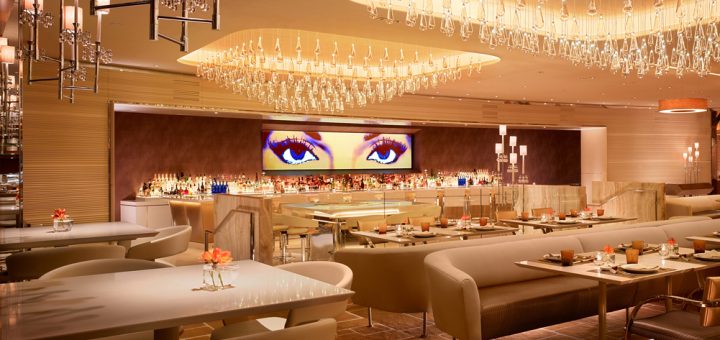 Andrea's Restaurant inside the Encore Resort has official made their grand opening debut and what a grand opening it was. Andrea's is integrated into the resort's Surrender nightclub, and its promoters say it will offer "vibe dining," thanks to the Music Chef, DJ Steve Angello and other famous DJ's who will be spinning tunes throughout the evening. (The managers promise the volume will be subtle enough that it won't disrupt conversation). As you will see by the video below, last night's grand opening was a celebrity studded event.
The executive chef is Joseph Elevado which stated to the public, "I envision people eating much like I do when I go out with friends, sharing together family-style," Elevado said in a news release. "Dishes like crispy crab and scallop, truffled ponzu rock shrimp tempura and, of course, Wagyu sliders are perfect to share."
Read the official press release from PR Newswire about details of this new upscale hip restaurant:
"We are delighted to add another distinctive concept to our collection of dining experiences," said Marilyn Spiegel, president of Wynn Las Vegas and Encore. "Andrea's will launch a new era in nightlife with a combination of culinary excellence, legendary Wynn design and the energy of Surrender Nightclub."
Steve Wynn, Chairman and CEO of Wynn Resorts Limited, has tapped nightlife visionary Sean Christie as managing partner. Christie's Las Vegas Nightlife Group operates Encore Beach Club, Surrender Nightclub and Society Cafe Encore.
"Andrea's will seamlessly integrate into the Surrender space and experience," said Christie. "It fills a need by catering to the resort's significant nightlife clientele, delivering the same high level of Wynn Las Vegas standards for food, atmosphere and service." Whether dining before, after, or in lieu of a nightlife experience at Surrender, XS or Tryst nightclubs at Wynn Las Vegas, diners can expect a sensory immersion of exotic Asian-inspired flavors, imaginative cocktails, high-end service and mood enhancing sounds set in a sexy atmosphere.
Enclosed from view of the casino floor, the 6,194-square-foot restaurant will feature a spacious and inviting lounge conducive to socializing, a step-up dining area designed for diners to see and be seen, hexagon tables for larger groups, intimate private dining enclaves, and a 2,100-square-foot terrace overlooking Surrender Nightclub's panoramic outdoor space.
Setting the vibe is world-renowned Wynn Las Vegas resident DJ Steve Angello, of Swedish House Mafia fame, who will direct Andrea's music program as Musical Chef. Angello will produce exclusive music mixes that are enhanced by the restaurant's state-of-the-art audio and lighting system designed by award-winning John Lyons Systems. Top resident DJs will also spin sets after 11 p.m. as the lounge fully transitions into Surrender Nightclub.
Seating 155 in the dining room, Andrea's will embrace a contemporary style of dining that is more fluid and less formatted than the traditional three-course model. From Andrea's exhibition kitchen will come a steady stream of Asian cuisine — from sizzling platters of expertly prepared meats, seafood and noodles, to sushi and dim sum. The sharable dishes can be enjoyed with sublime cocktails, many named after the resort's world-famous resident DJs.