Las Vegas' Biggest Local Nightclub Client, Vegas Dave Talks Rotating Women, Sports Betting & More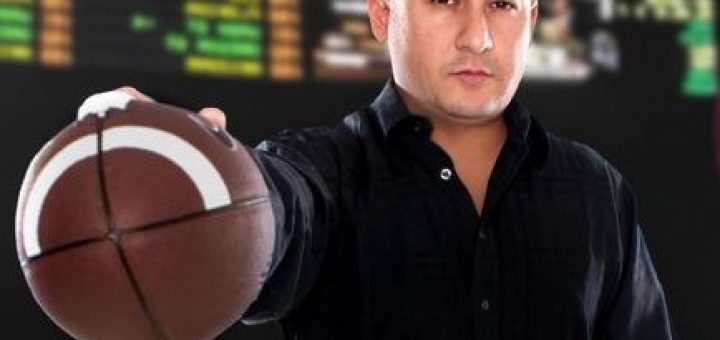 1. Where are you originally from?
I was born in Michigan, but I spent most of my time between Michigan and Hawaii which is where my mother is from.
2. What do you do for a living? Take us through a short version of your career.
I bet on sports for a living mostly football and baseball. I also sell my picks for a side income as well. A lot of people don't know that I have my broker's license and I write home loans during the day when I'm not too hung over.
3. Would you say real estate and sports betting would be your main source of income?
Yes, absolutely.
4. How did you get involved in real estate? What has been your largest deal you've closed in this market thus far?
Actually I'm into loans not real estate. I could always sell and when I found out the kind of money you could make selling loans I was hooked.
5. You're the king at sports betting. When did you figure out you had a talent for calling games and winning big money?
It took a while. Like most people, I got killed for the first 2-3 years. Once I had my system down I knew I had something special. I only play big If I don't have at least $20,000 on the game it's not even worth my time.
6. What is your biggest sports bet ever that you won and what was the payout?
Superbowl – Seattle and Pittsburgh. I played a 2 team parlay for $220k and I won almost a half a million dollars that day.
7. Out of all the sports betting websites, who do you like the most and why?
vegasinsider.com has a lot of good info and is updated all the time.
8. Which sport do you bet on that is the biggest reward?
Football
9. You recently built VegasDaveWins.com. How did this come about and what is it about?
I was so tired of everyone asking me for my picks. So I decided to make a site where people can get my weekly picks at a very affordable price.
10. You're also the king of partying. You went through a period in 2012 where you spent ridiculous amounts of money on bottle service and partying. How much do you think you spent in total partying in 2012 and where was your favorite place to party and why?
2012 I probably spent $300k in bottle service at mostly Tao Group properties. Table 31 at Marquee Nightclub, table 55 at Lavo Nightclub and table 50 at Tao Nightclub. I like Tao Group, they take care of me and a lot of my friends work for the company as well.
11. I speak of ridiculous amount of money spent in a club for bottle service; can you tell us what your biggest bill at the club was in 2012? What did you order?
After that superbowl win I talked about earlier, I spent $50k that night. Drank a bunch of bubbly (champagne), that's all I remember. If the ravens win this year it pays me almost a quarter million dollars. I'm going to go blow $20k of it at the Drais closing party. I really don't go big one night and get a big table. I go out 2-3 times a week and spend about $10k a week combined….I just don't go out once in a while and blow it up…I'm a very consistent client. Overall, since my move to Vegas in 2001, I've probably spent $2 million in bottle service at the nightclubs.
12. You own a clothing brand called, Rotate Son. How did this come about and what does it mean for those that may not be familiar?
Rotate Son started off as a joke. People would always see me hooking up with a new waitress every week. Once I hooked up with them, I wouldn't talk to them anymore. So I would just rotate my women. It became very catchy, so next thing you know I have my own clothing line and we have 3 different rotate songs produced by artists that get played at clubs all over the world.
13. You make frequent trips in a private jet to Cabo San Lucas, Mexico every year and you bring a group of hot girls and some friends. I know, what happens in Cabo stays in Cabo, but what can you tell us what it's like for those that may never been there and are inquiring to hear a story or 2? Why do you choose Cabo of all places?
Cabo is nuts. I like it because it's less than a 3hr flight and the weather is always nice. It started by me taking a chick one time. I fell in love with cabo the very first time. So the next time I came back with 6 people. Every 4-6 months we go and the group gets bigger. Last trip was 15 deep. I hand select each person. Each girl has to pass a check list and I only bring my boys. It's always a crazy trip. I get treated like a king out there. I get a 10,000 s.q. villa and everyone just parties their faces off. If and when the Ravens win the super bowl this next weekend we will be going back with 20 deep by the first of March.
The craziest trip was a year ago. We went with 9 people and came back with 8. Someone got so hammered they went missing for 3 days and he finally returned back to the U.S. later that week.
14. What's your new philosophy on life and partying? I know you don't party as hard anymore and are smarter with your money.
Work hard, play hard, ball harder…I should save more, but I still manage to invest in cash flowing assets. Remember it's not how much money you make its how much you save.
15. With all the partying and work that you do, what keeps you grounded? How do you keep going 100 mph every day and not fall over?
Rest! People say I'm out every night. That's false. I go out twice a week but those nights last for 24-48 hrs. lol….The rest of the nights I just date a lot and eat out at fine dining places. I make sure I see my parents and eat with them 3 times a week. Seeing them keeps me happy and grounded as well.
16. You say you rotate women, but what type of girl in your honest opinion seems to be the easiest to rotate of all? Not one specific person, but what type of girl in Vegas? Example: Strippers? Nightclub Cocktail Waitresses? Restaurant managers? Bartenders? Real Estate Agents?
My forte has been waitresses. I've always been able to pull them since I was 21 at my very first clubs. I just have some messed up chemistry with them I guess..lol…..Its pretty bad. I've probably rotated 1-2 waitresses in every club here in Vegas. My tip is to be honest with them. Don't kiss their ass like every other dude in the club. If she looks fat, tell her….I do!
17. You've been partying in Vegas for nearly 10 years now. You're known as one of the biggest local VIP clients in town. How do you feel about where the nightlife was 10 years ago to where it is today?
Nightlife has changed. I miss the days of RA, C2K, The Beach and Rum Jungle etc. Prices were cheaper and hosts were more of your friends than merely you just being a client to them. Back then, there was a bottle minimum not a table minimum. Seems like the hosts now days are more eager to make money off you than establish a friendship with you.
18. Is the Rotate Son brand really how you feel about women or is it just part of the brand? There must be some hope out there that you will find love some day.
Like I said rotate started off as a joke, but it was given to me because I was always seen with a different girl every time I go out. I do hope to fine love one day, but I'm going to keep rotating till I find the one. I'm just merely sorting the colored jelly beans till I find the green one (the keeper). In my defense to the whole "rotate son' philosophy….most men I know in Vegas are in a relationship and some are married where they exchange vows with their spouses. These men still cheat on their women. At least I don't commit, say I love you then cheat on you. With me, I realize that the girl is not the one then I rotate on to the next one son! I don't drag her on, lie to her, or waste anybody's time. People should respect that not hate on it.
19. What can people expect from you in 2013? What are some personal goals this year?
The "Vegas Dave" reality show should be out. A reality show on my lifestyle in Vegas. It's all about my sports betting career and my crazy nights out. We just finished shooting the sizzle real for it to pitch to the major networks that are interested. I also want to buy a few more houses. I plan on buying a Lamborghini this year. Back in 2008, I had 2 Ferraris and I miss those a lot.
20. Where do you see yourself in 5 years from now in your career?
Hopefully married and settled down. Also retired and overall happy. Rotation probation son!
21. What advice would you give someone who's an aspiring sports better and entrepreneur such as yourself?
Always dream big….I'm not the biggest guy in the world, but I damn sure have one of the biggest hearts and minds out there. Never satisfied! Play life to win, not to lose and always take chances!